Merchant - EET - Standard - Settings - Certificates
EET setup process
Certificates
On the portal go through the (Services -> Applications) -> EET -> Settings in the top menu to the Certificates.
1. VAT number
To upload a certificate, first enter your VAT number (tax identification number) in the field provided. The VAT number is assigned by the tax administrator to both VAT payers and non-payers and is required for the correct functioning of the EET. If you do not know your VAT number, please contact your tax administrator or tax office.
In the next field, select whether you want your VAT number to be displayed on the receipt.
2. Name and scope
Name the certificate. You can choose any name.

Choose whether you want to apply the certificate to the entire merchant or just a specific store.

If you select Merchant store, you will see a field for selecting a specific store.

3. Upload a certificate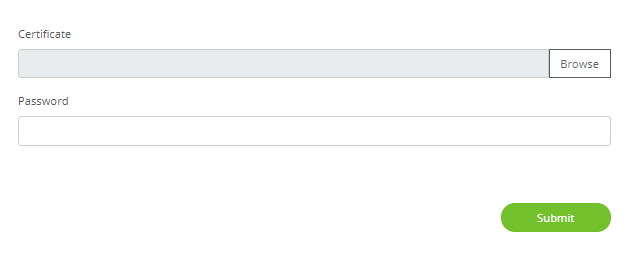 Use the Browse button to choose the export certificate file from your computer.
The file has .p12 extension and you received it from the Financial Administration.
In the password field, enter the password for the certificate private key, that you chose when you applied for the certificate.
After filling in, click the Submit button.